I won't like – I'm not big when it comes to being romantic, on the contrary. I have proposed to my wife with a blog article – and it was at best funny because I was there behind her, knelling, waiting for her to finish reading and it was such a long article and all my body was aching… true story!
Fortunately, not all men on this planet are as romantically-incapacitated as I am and some actually manage to come up with something absolutely amazing: such as the nice guys we'll talk about below, who are the stars of the 20 most amazing, heart-warming and sometimes funny marriage proposals ever. So guys, this is perfect for inspiration. Girls – if your soulmate isn't able to pull out something as spectacular as the ones below, read the first paragraph again. Enjoy!
1.
2.
Lindsay is the girl in the front. She had a huge surprise when she saw the photo. A+ for creativity!
3.
4.
5.
6.
After finishing up a 5k color run, this paint-splattered fellow got down on one knee and asked his leading lady to "begin our own race."
7.
This marriage proposal happened on a skating rink  – a red carpet was placed on it, with a special box at the end. The photo shows the actual proposal, and it's absolutely breathtaking.
8.
An UP-themed wedding proposal. Who can say no to that?
9.
10.
This brave soldier proposed to his professional soccer player girlfriend at the end of her team's biggest game of the season. It was a real victory!
11.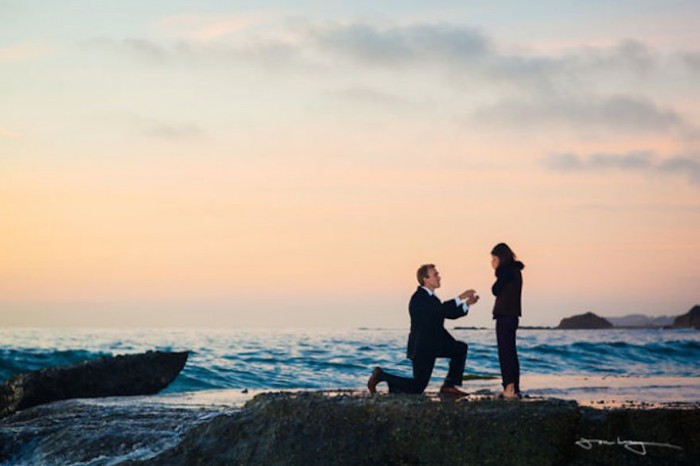 12.
13.
It was just meant to happen, as the couple remembers: "We were in the middle of nowhere, surrounded by mountains, miles from the nearest person. It was like we were placed into some fairytale winter wonderland."
14.
15.
16.
An amazing proposal, during a concert of their favorite band, in front of 7,000 people. That's how you do it!
17.
The bride to be remembers: "He led me through the rose petals to a spot at the end of the rocks. I didn't cry immediately. Then his eyes locked on mine and I lost it."
18.
19.
The girl says about the moment: "There were flower petals and candles everywhere and a movie screen set up. Aaron pressed play, came and sat by me in the teepee, and started shaking and tearing up."
20.
This was actually captured on camera by an unknown photographer. Simply beautiful!
Don't forget to share with your friends and family – these marriage proposals deserve all the praise in the world!
[photo source: Imgur]